In recent years, as various products have become lighter, thinner, and smaller, the optical system itself has been required to meet the same requirements as the product itself. TOYOTEC , which operates Optical Manufacturing Design Navigator, processes both glass lenses by polishing and plastic lenses by injection molding, but plastic lenses are mainly effective for weight reduction and miniaturization.
In this section, we will compare glass lenses and plastic lenses from various angles and explain the trends and selection points of plastic materials.
Glass Lenses and Plastic Lenses
In general, glass lenses are superior to plastic lenses in the following ways ;
● Resistant to environmental changes such as temperature and humidity
● High refractive index
● Abbe number, which expresses the degree of dispersion of light
● Resistant to light from wavelengths outside of visible light, such as ultraviolet and infrared rays.
A decade ago, all lenses used in film cameras and interchangeable lenses were spherical glass lenses that had been polished. In the 2000s, digital cameras began to use aspherical plastic lenses or aspherical glass lenses instead of spherical glass lenses. The reason for this is that the trend toward miniaturization has progressed, as seen in compact digital cameras. Also, the performance and characteristics of the resin material for plastic lenses improved.
Later, with the rise of smartphones, there was a demand for even smaller and thinner products, and the optical system itself also needed to be smaller, so plastic lenses became more and more widely used.
In this way, plastic lenses have an advantage over glass lenses in reducing the size and weight of products. In general, plastic lenses have an advantage over glass lenses in the following points ;
● With the same volume, a plastic lens is half as light as a glass lens.
● High degree of freedom in shape
● Mass production at low unit cost
PMMA ( Acrylic ) and PC ( Polycarbonate ) were the main resin materials for optical plastic lenses.
The characteristics of PMMA resin material include high Abbe number, low birefringence, and high surface hardness, while PC resin material features relatively high refractive index, high impact resistance, and high heat resistance.
Mainly Japanese material manufacturers competed with each other for adoption in compact digital cameras and smartphones, and resin materials that further improved the performance of PMMA and PC were developed one after another.
These include materials such as : ZEON's Zeonex K26R and F52R (COP), Mitsui Chemicals' APEL (COC), Osaka Gas Chemical's OKP series, which is an improved PC, and Mitsubishi Gas Chemical's Iupizeta EP Series.


※In-house comparison
Testing of Resin Materials
We have been testing new plastic lens materials with improved performance from the perspective of molding manufacturers. Using molds for sample plate molding, we have compared various items such as moldability, ease of surface accuracy, ease of dust and foreign matter generation, and degree of birefringence. One of the key factors in material selection is to determine which resin materials are easy for us to use.
With our experience in handling a variety of resin materials, we are able to propose the most suitable resin material for our customers' product applications and required specifications.
Birefringence Check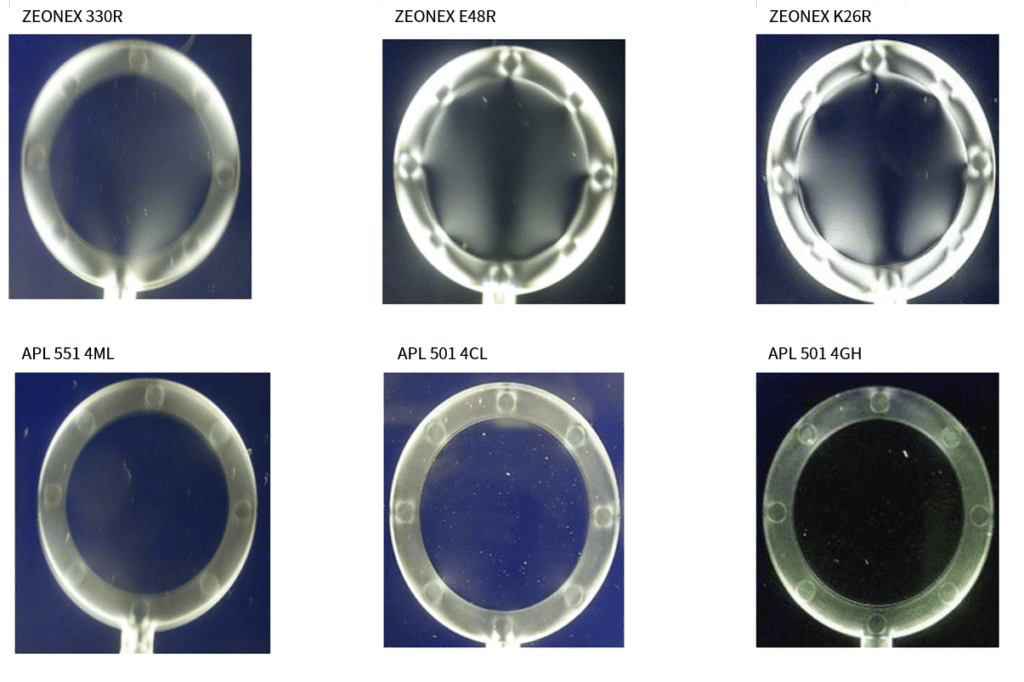 ※In-house Comparison
Product Diameter(Outer) : φ25mm (Mirror surface flat range φ18mm)
Thickness:3㎜
Measuring Equipment: Polarizer Cross-Nicol (Image)
Optical Design Technology Navigator will solve all your needs for optical design!
TOYOTEC, operator of the Optical Design Technology Navigator, is an all-around optical manufacturer with proficiency in optical, mechanical, and electronical technology. We can design and develop products from scratch based on our customers' needs, and provides integrated support from design to productization.
If you are thinking about something like,
"If only there was a product like this…", or, "Is it possible to do these kind of things with lenses?", Optical Design Technology Navigator, a website operated by a group of optical design professionals, is the place to go. If you have any questions about optical design, please feel free to contact us at Optical Design Technology Navigator.