In this case study, we will explain the added value and services that TOYOTEC can provide to our customers based on our past cases.
Issues for European Industrial Sensor Manufacturers 
We have recently been asked by a European industrial sensor manufacturer to provide services to support production at TOYOTEC's overseas plants.
In this article, we will focus on this "production support at overseas plants" and explain its benefits and the value TOYOTEC can provide
Unstable distribution of suppliers across the globe. Balancing supply chain from the perspective of BCP and SCM optimization.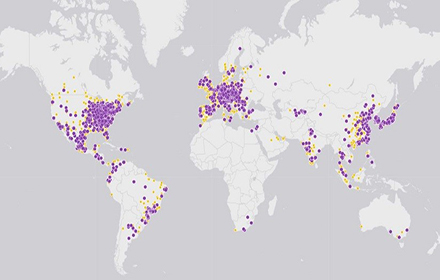 Image credit: ESRI Japan https://www.esrij.com/industries/manufacturing/supply-chain/
The importance of SCM is increasing year by year, as shown by the fact that Panasonic is considering acquiring a leading global SCM software company in early 2021. Therefore, SCM optimization is an important theme not only for those in charge of procurement, but also for the management and manufacturing side.
In addition, manufacturers with global operations need to build a strong supply chain as a BCP, taking into account various factors such as disasters, political risks, and the sustainability of suppliers.
The European manufacturer mentioned at the beginning of this article had been manufacturing mainly in Europe, but now they are setting local procurement and supplier diversification as a task for procurement over a 10-year span.
Challenges for foreign buyers in seeking new suppliers
On the other hand, one of the issues mentioned was how difficult it is for European buyers to find new suppliers in Asia.
"We know that there are many good suppliers in Japan, but there is no way to access them for small and medium-sized companies."
"We don't know if we can communicate well because of the language barrier and time difference."
"We believe that there is manufacturing capacity in Southeast Asia, but we hardly know how much there actually is."
"If we try to cover procurement from individual parts, too much manpower would be needed on the buying side."
As exemplified by these comments, TOYOTEC feels that although European manufacturers are aware of the potential of Asian manufacturers, there is a great deal of concern from the perspective of stable procurement.
Proposal from TOYOTEC: TOYOTEC acts as a contact point and complements customer SCM by making full use of TOYOTEC's own overseas factories and suppliers.
TOYOTEC was one of the first medium-sized companies in Japan to establish overseas factories, and has been building a supply chain in Japan and overseas factories.
Since we were involved not only in lens manufacturing, but also in lens units and OEM/ODM of customers' products, it was naturally difficult to complete everything with in-house manufacturing. That's why we have more than 30 years of experience in developing overseas suppliers for optical components and in procurement management.
Therefore, TOYOTEC has decided to appeal and offer its network of factories in Japan, overseas factories (including group companies), and overseas suppliers, as well as its procurement management capabilities, to customers as a supply chain contact point in the Asian region.
Rather than simply taking over the procurement of parts, we can propose cost improvements that reduce the customer's processes by delivering multiple procured parts as an assembly. In addition, for parts that TOYOTEC is not directly involved in manufacturing, TOYOTEC can introduce suppliers and provide partial quality assurance, thereby alleviating customers' concerns about stable procurement.
The customer mentioned at the beginning of this article also appreciated TOYOTEC's stance, stability as a company, and achievements, and continues to do business with us with firm trust.
Please feel free to contact TOYOTEC if you are considering stable procurement or procurement improvement of optical parts and units, not only for overseas manufacturers.